Gothenburg Opera House
Address: Lilla Bommen - opposite of Barken Viking.

Even if you may not want to go to a show here the building itself is also worth a visit. The interior and exterior are special. The location is perfect, in the harbour with a view over Göta Älv.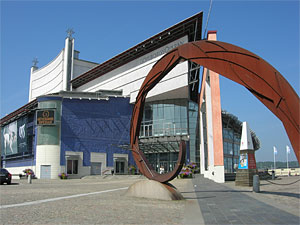 When you walk in the harbour you can see the building that look like a ship.

Operahuset is 524 feet and as widest 278 feet. The house have 8 floors and are 104 feet high.

The big auditorium is built as a classic court theatre with stalls and balkonies. The audotorium can take up to 1300 people. The Opera house also have a small lessauditorium that are for approx 300 people.



History
The Opera house stood ready year 1994 and the architect is Jan Izikovitz. For a very long period of time discussion about that Stora Teatern and Stadsteatern were to thight and out of date. The talk about this started already at the 50´s and many people didn´t think that it should take so long time before Gothenburg got it´s new arena.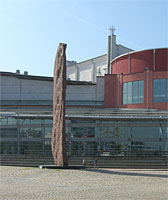 What stands outside the Opera House?
Outside at the side against Göta Älv stands an 26 feet high sculpture in granite.
It is the norwegian artist Bård Breivik who have made this art.

What can be found more at this place.
In the area around the Opera House you also have the big ship Barken Viking, at summer time you also can take a trip with Börjesson´s boats out to the small Iland Vinga, Marstrand or Älvsborgs fort. The so called "Lipstick"/Läppstiftet is also just a fiew minutes away, in the top of the building you have a watchtower were you a nice day can see the whole way out to the Island Vinga.
| | |
| --- | --- |
| | |
Fun tip:




Orchestra pit

In the orcestra pit there are room for over 100 musicians.

Costume studios - ladies and gentlemen

Here works approx 20 people. Here the tailors put the costumes together and after that tries on the garment on the artist. If it doesn´t fit they have to sew again...........

Restaurant, Cafe and Bar

The Opera house also has got a nice restaurant, why not come here and take a glas of wine in the bar.

At summer time you can visit the so called "summer veranda" that have opened between May 12 - Aug 19. There you can have lunch or take something small to eat or drink.
Opened between 11.30 AM - 11 PM.






Source: Göteborgsguiden /sv.wikipedia.org
Homepage of the Opera House