Getting around in Gothenburg!

Gothenburg is like New York, a real walk friendly town.
Of course, if you do not want to walk you can go by bus, tram or taxi. If you come by car then park at some of the big parking lots in town.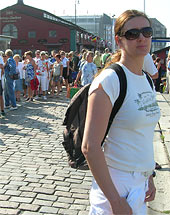 On foot
As always when you walk in a big town, bring walk friendly shoes. If you have forgotten them you can always buy some in a store in town....

The most things are in the city centre and within walking distance....if it´s no problem to walk for 20 minutes or so. Get a good map and after that start walking!

Walk friendly areas to see a little bit of the town are: Avenyn - close to Poseidon and Konstmuseet. If you go to Majorna to see a bit of the old neighbourhoods, you are close to Skansen Kronan, Linneplatsen and a little bit further away you have the big green area Slottsskogen.

Map
Here you find a good map of Gothenburg »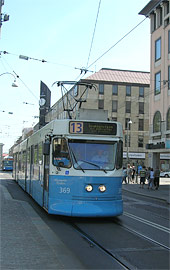 By Tram
Since year 1879 Gothenburg have had trams. In the beginning the trams were pulled by horses, it wasn´t until the beginning of the 1900´s the trams started going on electricity.

It is the city of Gothenburg who owns and run the trams. There are some trams to choose from, number 3, 5 and 9 etc. On every bus stop you will find a map of Gothenburg and were the tram is going. Study it and if you are not sure then ask the conductur for the way and were you shall jump off.

Ticket
It´s the best if you buy a card for travel it will become cheaper. A card can be bought in advance at a, newsagent, in a supermarket or a 7 Eleven stores. Drivers do not sell tickets. See below for information about tickets.
In Summer time you may also see the old trams driving around in town. They are cleaned and polised every year, the oldest tram is from 1902.

Watch out when you cross the streets , the trams are coming in high speed !
Even though their maximum speed is 60 km/h, (37 miles/h).

Bus stops and time tables
Here you find a map with bus stops in the sorroundings of Gothenburg »
Here you find time tables etc »
More information about tickets - see below!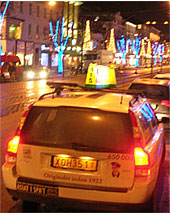 Taxi
You will nearly always find a taxi anywhere in town. Ask the driver for a price to your destination or go by the meter.

Think about this when you go by taxi: More and more people forget their things when tey go by taxi, they forget their mobile phone, handbags, clothes etc. Always take an extra look when you close the door behind you. The good thing is that most of the people get their things back!

Good placed to find a taxi is: outside Centralstationen and at a crossroad in the middle of Avenyn, Vasagatan

One of the biggest taxi firms in Gothenburg is Taxi Göteborg:
More information about Taxi Göteborg »

Fun tip: 1930 the first taxi model was ready at the car factory at Volvo.
Observe! There are a lot of so called "Svart taxis" in Gothenburg. That means a person driving an ordanary car without a taxi licence. Usually they come up to you asking you if you would like a "Svart taxi". Do not go by these kind of "taxis". Always take a real taxi with a taxi sign and identification on the inside of the car.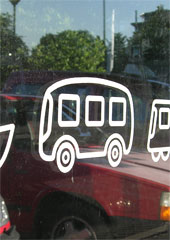 Bus
With bus you can also travel quickly in town.

The same apply here as for trams. At every bus stop you will find a map of which way the different buses will go and which areas they will travel to. If you are unsure about the way just ask the conductur.

Ticket
It´s the best if you buy a card for travel it will become cheaper. A card can be bought in advance at a, newsagent, in a supermarket or a 7 Eleven stores.
See below for information about tickets.

Time tables
Here you will find time tables etc »

More information about tickets - see below!
| | |
| --- | --- |
| | |
Bicycle

On a bicycle you can see the town in a little different way.

For you that do not want to walk and think that a bus, tram or taxi isn´t so fun, why not rent a bike. You can go were you want and just stop were you want. An relaxing way to see the town.

Rent a bike
You can rent bicycles at a place in town, Cykelkungen. Of course if you are stying at an hostel they also often can provide you with a bicycle.

Information about bicycle
Address: Cykelkungen, Chalmersgatan 19, Tel: 031 - 18 43 00.
Cykelkungen website »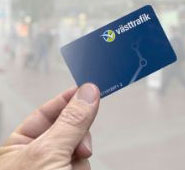 Information on tickets / cards on the bus & tram

No cash is handled on a bus or tram. As a tourist, you can buy a card valid for 1 or 3 day travel or to purchase one-way-tickets. You can buy the tickets in Pressbyrån (there is several Pressbyrån in town). Now there is also possible to buy one-way-tickets onboard the trams.

Buy one-way-tickets onboard trams
Now (2014), there is also the option of buying single tickets on board the trams. You can pay with coins or bank card. We can not answer for if all the trams in the current situation are up to date with ticket machines onboard. Best is to board in the front, and if you do not see the ticket machine just ask the driver.

More information - vasttrafik.se »

1 or 3 day card / tourist card
As a tourist this is a good option for you. There is 1 or 3 days card for one person. You pay one fee and can ride the bus & tram how many times you want and anywhere you want within Goteborg City.
Anyone who is 20 years or older may also bring along three people under 20 years free on the trip.

More information about a touris card - vasttrafik.se »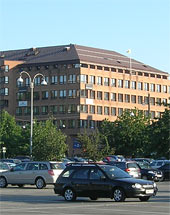 Parking lots

If you bring your car to Gothenburg, we suggest that you park your car and then explore Gothenburg in another way.... Otherwise you will miss a whole lot!

When you drive in Gothenburg you will be helped by the signs at every parking lot. Electronic signs will show you how many parking spaces that are free. (we have always wondered how these signs works)

The biggest parking lot is the one in the City Center at Heden (not far from Avenyn). There you will find approx 1000 parking spaces.