For many years, Gothenburgers and tourists have been able to enjoy Biljardpalatset, which is one of Sweden's most appreciated billiard halls. At Biljardpalatset you can not only enjoy playing at table of competition standard but you can also eat in Biljardpalatset own restaurant BP Brasserie.
Billiards and shuffleboard
Both the billiard hall itself and the associated restaurant have, thanks to quality and good service, received a really top rating from users on Trip Advisor. This is a nice proof that Gothenburg also delivers when it comes to the narrower interests. You can play billiards, shuffleboard and darts at Biljardpalatset.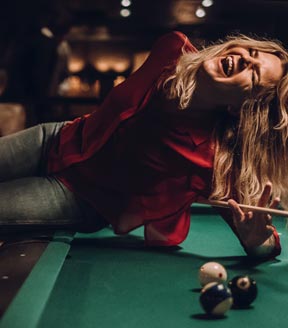 World-class billiard hall
When you visit Biljardpalatset for the first time, you will be impressed to say the least. This was at least us and this even though we had high expectations before the visit. Of course, it is billiards that are in focus at Biljardpalatset, whose ambition is to be one of Europe's best billiard halls. The size of the Biljardpalatset is an incredible 2000 sqm large and the area is divided into two floors.
You can choose from no less than 30 pool tables and these are of course of a really good standard. In fact, the tables are from the brand Brunswick Gold Clown IV, which is the same brand that you have on the tables at the World Cup billiards. In other words, there is no question of any lack of quality here. As Biljardpalatset is a well-known meeting place for billiard lovers, the tables have over the years been marked by world stars who put their signature on the tablecloth. You who know your story will thus not only be uplifted by your good game but also have an interesting experience.
Grand Champion Shuffleboard
Another thing that attracts visitors to Biljardpalatset is the Shuffleboard games where everyone is welcome to join. Shuffleboard is played on a 7 meter long table that holds 2 to 8 players. In other words, many can participate during the game, which makes it all a social experience.
Shuffleboard is about collecting points by throwing pucks into different point zones. Here, too, quality is in focus and Biljardpalatset offers no less than 18 Shuffleboards of the Grand Champion brand. The tables are serviced every week by Biljardpalatset own technicians and at each new game the tables are sanded, which gives the best possible gaming experience and performance.
Biljardpalatsets restaurant
At Biljardpalatset, the ambition is to offer visitors a real holistic experience. Both billiards and shuffleboard are social games that you usually perform with others. Due to this, Biljardpalatset also offers visitors the opportunity to eat a really good piece of food. You have a restaurant called BP Brasseriet and you can easily book a table and see the menu on Biljardpalatset website. In the BP Brasserie you can eat really good food that draws its inspiration from French cuisine.
Like the rest of Biljardpalatset, they also invest in high quality in their drinks. They have over 200 unique wines in its wine cellar, 20 different draft beers and a surprisingly ambitious bar that delivers cocktails of a really high level.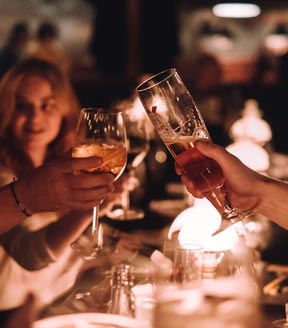 Summary
As you probably understood, Biljardpalatset has made a really good impression on us and we can warmly recommend you a visit. Whether billiards is the best you know or you simply just want to hang out with friends in a comfortable environment, this place is a great option. It is also located easily accessible in central Gothenburg and if you take the tram, you should get off at the Cathedral and walk up along Kungsgatan towards Kaserntorget.