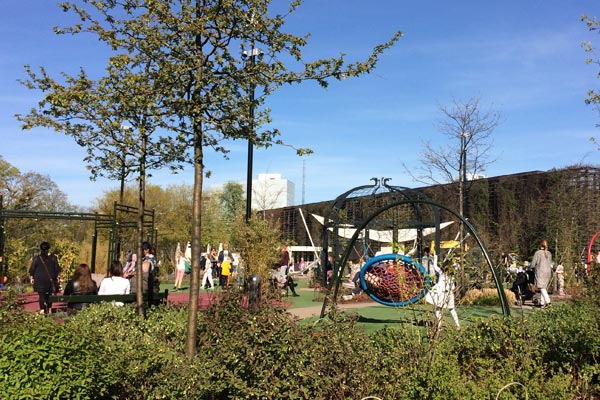 Trädgårdsföreningen
In Trädgårdsföreningen you will find greenery with beautiful trees, individual "rooms" for some rest, restaurant, cafe, fountains etc. In the park you will find next to Lagerträdhuset, Pionrabatten. Here you will find about 30 pioneers. In Stenpartiet you will find unusual plants and shrubs. Here it blooms from early spring to late autumn. In Doftträdgården you will find herbs, lilies, herbs, etc. In front of the director's villa you can see cactus plantations.
In the park you can also see a number of sculptures - including Carl Michael Bellman, The Climber, Pan, The Bride Who Disappeared, Water Snail etc. There is also a playground that is a bit fun and ingeniously equipped. There are slides, swings and a few other goodies. You can also visit their greenhouse - with perennials, Mediterranean plants, unique roses and garden products.
For those of you who love roses, visit Rosariet. Today, there are just over 4,000 roses of 1,900 species / varieties represented in the Rosary. A delight for the eye and absolutely wonderful scents.
The Garden Association in Gothenburg was completed in 1842 and behind walls and bars became a small garden in our city. It was called the Romantic Park when it was built.
Tip! Feel free to bring a blanket and a picnic basket and take a break in the green park. If you want to eat in the park - visit their cozy restaurant. In the summer you can buy good ice cream..
Address: (2 entrances) Opposite the Stora Teatern in the center (near Avenyn) and from the other direction: next to Alfons Åbergs Kulturhus.
Trädgårdsföreningen
In the Palmhouse which was built in 1878, you can walk around in an area of ​​about 1,000 square meters of glass and cast iron. Inside the Palm House you will of course find - palm trees and banana and giant bamboo. In Kameliahuset - lilies and orchids. In the Mediterranean house - lavender, olives, dwarf palm and cacti. The birdhouse - cocoa, gourd, vanilla and papaya. The water house - the marsh plant (mangrove), giant water lilies and pineapple plants.