Gothenburg Events!
In Gothenburg there are always something happening, here you can see what´s going on and buy tickets.

There are always things to do in a big town, visit a museum, walk around in a park, go to a music show or a concert, maybe dress up for a Opera night, culture in general, some sport arrangement and much much more...... below we have listed a few events.
This page contains affiliate links from different partners.
Sightseeing and experiences in Gothenburg
Paddan boat tour (1 hour)
12 Apr - 13 Oct 2019
A classic city tour on the flat Paddan boats through the Goteborg canals and out to the harbour. A really nice tour.
Shrimp and Salmon Cruise (3 hours)
4 Apr - 25 Oct 2019
Go by boat and enjoy shrim and salmon. The price includes welcome cocktail drink, shrimp and laxbuffé, entertainment and boattrip..
Save money with a Gothenburg Pass!
With Göteborg's affordable city pass, you get lots of free entry and free sightseeing. The pass includes over 30 attractions. How about free admission to Liseberg, Universeum, The Maritime, Ostindiefararen Götheborg and free boat trip with Paddan mm.
Buy Gothenburg Pass here »
Sightseeing and experiences in Gothenburg
Cruise to Marstrand with buffé (7 hours)
July 7 - Aug 12, 2019
Go on a full day cruise to Marstrand. You make a stop at Källö-Knippla of about (30 mins) which includes a guided walk. This ticket includes boat ride, guided hikes, snack buffet, and the west coast buffet.
Brunch cruise (3 hours) Sat / Sun
April 6 - Oct 13, 2019
M/S Carl Michael Bellman departs for a three hour brunch cruise in the Gothenburg archipelago. Enjoy a buffet. Departs from Lilla Bommen.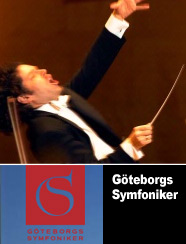 Goteborg Concert Hall

Below we list some of all the artists that come to Goteborg and the Concert Hall 2019.



Tribute to Björk: May 3, 2019

Bugges Bach: May 23, 2019
Point Club: May 24. 2019
Solala - Köket på turne: May 11, 2019

From Broadway to West End (Kören Canto) : 14 May, 2019
The Legends - 60s and 70s Comeback Special: Nov 9, 2019
A Tribute to Dire Straits: nov 10, 2019
Manhattan Transfer : Dec 15, 2019


More information and tickets to Goteborg Concert Hall »
Popular events in Gothenburg 2018-2019!
Buy tickets to concerts and events in Goteborg, Sweden here:
Venues in Goteborg