The Gothenburg Package -

including free entrance to Liseberg!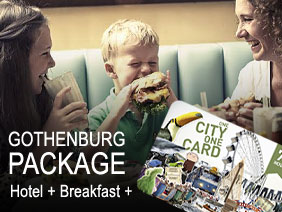 Package: Hotel + Breakfast + Göteborg City Card
A very priceworthy hotel package where you get both hotel with breakfast (choose from many hotels) and the popular "Göteborg City Card" that give you free entrance to a lot in Gothenburg such as Liseberg (Summer, Halloween, Christmas), Universeum, Christmas Paddan and free travel on local transportation such as buses and trams.
SEASON LISEBERG 2017: SUMMER 22 apr - oct.HALLOWEEN - oct, CHRISTMAS nov-dec

Book the Gothenburg Package »
Göteborg City Card is included in the Gothenburg Package
During your stay the "Göteborg City Card" is included for everybody up to 3 days*. With the card, you discover Gothenburg in a smooth and very affordable way. You get free entries and free local travel as:


*NOTE! When booking between 1 Oct - 30 April the Göteborg City Card is valid 48h (2 days) regardless of how many nights you book. May - Sep, the card is valid up to 72h (3 days).
Liseberg
Paddan
Universeum
Hop-on /
Hop-off bus
Free local
transport

ilovegoteborg.se i cooperation
with booking.com

Dining cruises in Gothenburg!
Shrimp & Salmon cruise (3 hours)
6 apr - 27 oct 2017
A classic evening cruise in the southern archipelago onboard M/S S:t Erik with salmon and shrimp buffet. Departs from Lilla Bommen.
Brunch cruise (3 hours) Sat / Sun
8 apr - 15 oct 2017
M/S Carl Michael Bellman departs for a three hour brunch cruise in the Gothenburg archipelago. Enjoy a buffet. Departs from Lilla Bommen.
Book Shrimp & Salmon cruise »
Book Brunch cruise »

Find cheap flights to Gothenburg!

Seach, compare and book cheap flights to Gothenburg with CheapOair!

Use the search form and search through over 450 airlines and find the best deal to Goteborg. Search best price to Goteborg with Ryanair, SAS, Norwegian, Vueling and many more. We work with cheapOair that is one of the World´s biggest flight-comparising website.

Go directly to cheapOair »

Göteborg - the Swedish "frontside" on the "Best Coast!"
Gothenburg or Göteborg as we say is a nice Summer city and every year a lot of things is happening here. Come for a visit a weekend or why not a whole week. Gothenburg is easy to walk around and it will take you to several places of interest.
Walk past the old canals built by the Dutch in 1600´s and feel the puls on the famous main street Avenyn or go to the harbour, take a coffee in the old part of the city in the cosy area Haga. Maybe visit a museum or just take a break on a park bench in the Slottsskogen park or go on an event.

In Gothenburg you feel the wind from the sea and from the old days. Old is mixed with the new and the city offers something for everybody.

Why not come!!!
Gothenburg facts
Short information for your trip here. How many live in Göteborg, public holidays in Sweden and what about the weather?
» Gothenburg facts

A lot to see
Choose from many places of interest. Do you like churches, houses, amusement parks, statues, food or opera etc.
» GBG Guide

Museums
Museums for different interests. Art, history, animals... it´s just your interest that desides. We list some of the museums.
» Museums

Hotels
Were to stay? Choose from hotels in the city center or stay a bit outside of town. You will find hostels and luxury hotels.
» Search hotels

The Gothenburg City Card - free entrance etc!
Experience Gothenburg with the
Göteborg City Card!


The card gives you free admission to Liseberg and Universeum, parking and travel by tram and bus, sightseeing by bus and boat, Paddan, Maritiman, museums, shopping deals and much more.

The Gothenburg City Card/Göteborg City Card is included in the hotel package "The Gothenburg Package" up to 3 days during your stay in Gothenburg.

Buy the Gothenburg package here »
Eat something nice in Gothenburg!
Why not try a bit of fish to eat at Fiskekyrkan


Visit the Fish Church/Fiskekyrkan in Gothenburg. Located next to the canal. Here you can buy all kinds of seafood. Eat at one of their restaurants, Kajutan or Gabriel. Fiskekyrkan is located within walking distance from the city center.

More info at Feskekörka »