Season 2019: 12 april - 13 oct.
Hop-on / Hop off: End of jun - middle aug. Christmas 2019: 23 Nov - 23 Dec.
Adress: Kungsportsbron (Kungsportsplatsen) - mellan Turistbyrån och Stora Teatern.

If you do not have time to travel by boat out to the island Vinga or take a trip to Marstrand. Why not go on a tour in the characteristic flat Paddan boats that departs from the city centre.

It is a nice trip in the canals around Gothenburg... and do not forget to watch your head when going under the bridges.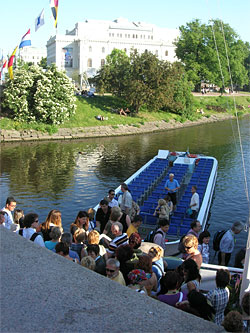 The flat boats in Gothenburg
The flat boats are waiting for you at the small dock at the Kungsports Bridge (Kungsportsbron). A guide will accompany the boat ride and try to tell you the whole story about Gothenburg, apart from Swedish also in English and German.

Every boat takes approx 90 people.

History
June 15, 1939 the first trip with Paddan departed with paid passengers. At this time it departed from the east side of Kungsportsbron, where the station at this time were located.

The boat operated on petrol and could only take 12 people. At this time passengers could also hop on along the way. During the war the petrol became very expensive and people didn´t afford to go with the boats. It was time to event something else - the first gas driven boat arrived year 1941.

Time passed and in 1942 Paddan got hold of the first big boat that could take over 80 persons. After this year Paddan nearly increased its fleet with new boats every year. Today there is only one boat left since the 40´s.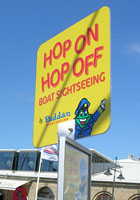 Trips
The trip with Paddan along the canals and out in Göta Älv takes approx 50 minutes. At Christmas time you can take a trip with Paddan to Liseberg. Then you can enjoy your coffee and the Swedish drink "glögg" with a blanket on your knees. You can also take the boat back to town if you want.

HOP ON /HOP OFF
Now you can go by Paddan hop-on/hop-off tour. You buy a ticket for 24 hours and then jump on and off as you want at specific stops as Kungsportsplatsen, Lejontrappan, Lilla Bommen and Feskekyrkan.

Buy tickets to Paddan Hop-on / Hop-off »
| | |
| --- | --- |
| Tickets | Paddan Hop-on / Hop-off |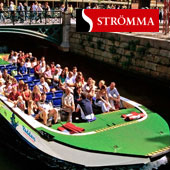 Paddan Hop-on / Hop-off boat (24 hour ticket)

Season: June 27 - Aug 17, 2019


The flat Paddan boats will take you through the canals of Gothenburg and out on the Göta Älv. Gothenburg is celebrating 400 years in 2021 so you will here about a lot of history and see many nice buildings, parks and ships. If you haven´t been on a Paddan boat before we would really recommend it. We have traveled several times both with friends and on our own because it is a really nice exeperience.
Buy tickets to Paddan Hop-on / Hop-off »
| | |
| --- | --- |
| | |
Fun tip:


At first no one believed in this idea, to go by boat around Gothenburg. It was the newspaper seller Lars Andersson at Kungsportsbron that first came up with the idea with small boats in the canal. Sorry to say he didn´t get any attention for his idea and finally it became Gundel Matsson who operated a travel agency in town, who realized the idea.


Certainly it later became a big success for the city, today the small flat boats is a distinguishing feature for Gothenburg. In 2009 Paddan celebrated 70 years.

The Paddan Tour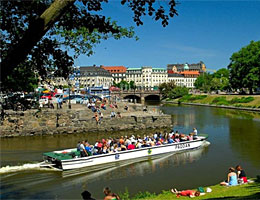 You go on board the boat at Paddan-Kungsportsbron next ungsportsplatsen. The tour takes you through the old canals from the 1600s and under low bridges and out of the harbor. Here you will hear about the history of Gothenburg from the knowledgeable guide. During the trip you pass landmarks such as the Opera House, Feskekörka, the lipstick, the old shipyard areas, green parks and Gothenburg Typical old house "Landshövdingehus" in Haga.

Remember to put on clothing for the weather - when the boat is without a roof. Unfortunately, dogs are not allowed on the boats.

Season: April 12 - Oct 13, 2019
Departs from:Kungsportsplatsen
Time: 50 min
Buy Tickets to The Paddan Tour »
| | |
| --- | --- |
| Tickets | Hop on/Hop off by Bus & Boat |

Hop on/Hop off by Bus & Boat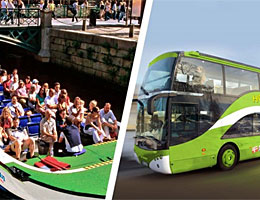 Combine one day to go both by boat and bus. You stop at 12 different stops. This means that you can see Gothenburg from different perspectives. You decide how many times you want to go on and off. Hop on / Hop off is a very good option to
see and discover all of Gothenburg's sights.

Ticket is valid in 24 Hours.

Season: June 27 - Aug 17, 2019
Departs from: 12 different stops
Tid: 24 Hours

Buy Tickets to Hop on/Hop off by Bus & Boat »

Paddan on Säveån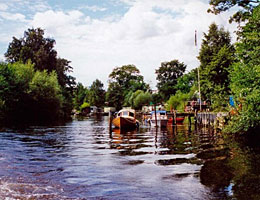 Take a guided boat ride along Säveån. Paddan boat takes you through the old moat, Great Harbor Canal through the 13 km long Säveån out to the Göta Älv.

A guide tells the story hos Gustav II Adolf founded Gothenburg and Lödöses history. During the tour you will pass buildings, shipyards and docks. On the way back, there is time for questions.

Season: May 19 Maj - Sept 29 - 2019 (Sundays, may, june and sept. Other months mix days)
Avgår från: Kungsportsplatsen
Depart from: Kungsportsplatsen
Time: 2 hours
Buy Tickets to Paddan on Säveån »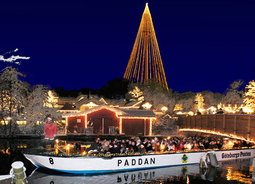 The Paddan Christmas Tour
During Christmas you can go with Paddan to Liseberg. A cozy little tour wrapped in blankets and with Swedish glögg (mulled wine) to drink. During Christmas Liseberg is usually open in mid-November until the last days of December.


| | |
| --- | --- |
| Tickets | Paddan Christmas Tour with entrance to Liseberg |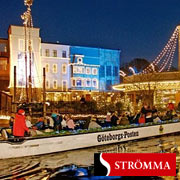 Paddan Christmas Tour to Christmas at Liseberg 2019
Approx 40 min (23/11 - 23/12 2019)

From last nov - 23 dec 2019
A winter sightseeing tour with Paddan to Christmas at Liseberg and admission is included in the price. Before the trip you are served mulled wine and gingerbread. The boat departs from Kungsportsplatsen. The tour is presented together with Strömma.
Book Paddan Christmas Tour here »
Picture: Christmas Paddan - www.stromma.se
Source: Göteborgsguiden, Strömma, sv.wikipedia.org