Address: Risåsberget (also called Skansberget), Ryssåsen in Haga.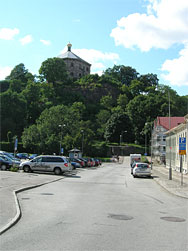 There are two redoubts in Gothenburg, the thing that divide them is the symbol in the top. One has a crown and the other one a lion.
They are Gothenburg´s old defence redoubts from the end of the 1600´s. 1639 in the city council, a proposal was given. The mountains around the city should have redoubts to "insure the city".


History
Skansen Kronan was built with the start June 9, 1687. The name Kronan came after a while after the crown had been placed at the top. The architect Erik Dahlbergh have design Kronan and also Skansen Lejonet. King Karl XI approved the drawings and the skans was taken into use much later, 1698. The roof wasn´t ready until year 1700. The walls are approx 15-16 feet thick. The fortress has four floors.

What happend through the years?
Skansen have never been in any battle. When time passed the fortress lost it´s value within the army. Between the years 1731-33 it was stated that skansen needed to be renovated, among others the floor in the powder room was rotten. The cannons that were placed at skansen demobilized year 1806. New repairs again and after that skansen was untouched to the end of the 1800´s.

1854 Skansen was used as a prison. Approx 200 prisoners had to be moved from Carlstens fortress at Marstrand. In the 1870´s it was used as a place to live, then there were a big lack of residences in the city.

1904 the Skansen Kronan became a military museym and in Sept 2004 the museum was terminated.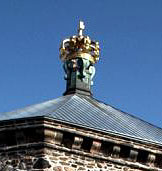 The crown at the top

The firts crown that arrive at the top of the fortress was in wood and mounted with lead and gilded. It was placed at the top year 1699.

An inspection was made 1733 and the wood figure appeared to be damaged by rot, it was then replaced with another wood symbol.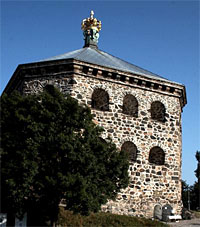 What happends today at Skansen?

Today Skansen are beeing used for arrangement for party, weddings and other company gatherings etc.

They can also offer to arrange the food, troubadours and also arrange personal display of the premisis.

At the outside you will also find a stair and a elevator that will take you up one floor.

At New Years Eve people is gathering here to watch the fireworks display over Gothenburg.
Fun facts:


The stones in Skansen

The stones in the fortress believed to have come from the old fortress Elfsborg.

Skansen Kronan is a national memorial since year 1935 and belong to the national cultural heritage.






Source: Göteborgsguiden, sv.wikipedia.org
Pictures: Skansen Kronan website and own.