Liseberg
(Amusement Park)
Address: Liseberg, entrance from Örgrytevägen and from Södra Vägen.

Season 2019: Summer season opens April 27 - Sept 29. Halloween: 11–13 okt , 18–20 okt och 25–31 oktober samt 1–3 november. Christmas at Liseberg: Nov 15 - Dec 30.
(Opening hours).

Liseberg is a fantastic place to visit both in the summer time and in December, the Christmas month at Liseberg. The attractions are many and for you who do not want to ride in any roller coaster, you can just walk around and look at the beautiful flower decorations and in the wintertime Liseberg is lit up with nearly 5 million lamps that are placed in the trees.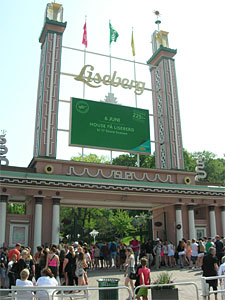 When did Liseberg open?
When Gothenburg celebrated 300 years the area Liseberg opened. At this time you could take an aerial cableway from Götaplatsen over to Liseberg. In 2013 Liseberg celebrated 90 years anniversary.

History
Before Liseberg was built there have happend a lot at the area. At first there was only big land, pasture land for cows, horses and sheep.

After some time the area also became a place to plant tobacco in. The soil was good for this, maybe it was, but we thought about the weather.......

Who bought the area?
The city grow and everywhere more and more streets were created and the city traffic also increased. The rich poeple started to search for area at the country side again.... they wanted to come out to green area and plant their own vegetable garden. The area Liseberg then became as todays small plantation areas, they were split in to small areas who was called morgnings - the area was so big that you could harvest it during one morning.

1740 the district court judge took over the area, and his name was Jacob Bratt. The so called morgnings were still left and also the tobacco plant. Now the first buildnings started to be built at the area.
2018 - New attraction at Liseberg - Valkyria
(2018) it was a new roller-coaster Valkyria .
Valkyria is Europe's longest dive coaster - a rollercoaster with a vertical drop of 50 meters. Just as you cross the edge, the ride is paused before falling into an underground tunnel.

Short facts/Valkyria: Vertical drop of 50 meters, 47 meters high, 105 kilometers per hour, approximately 750 meters tall, 3 trains with 18 persons in each.
2017 - New attraction at Liseberg - LOKE
(2017) - LOKE at Liseberg .
Inside the Balder area you will find "Loke". It's a pendulum and twice as high as Spinrock was. It is 27 meters high (the height of the gondola 42 meter) and has a maximum speed of 100 kilometers per hour. It is located inside a new area of the theme park.

Short facts/Loke: 27 meter high, 100 kilometers per hour, the ride takes about 100 sec, 40 persons per ride.
| | |
| --- | --- |
| | |
2016 - Several new attractions / areas at Liseberg
Lisebergs Gardens with AeroSpin, Flower Carousel & Children´s Paradise.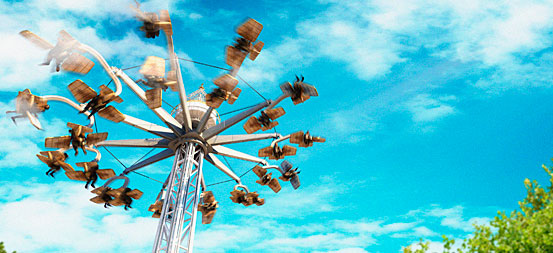 (2016) there were three new attractions at the new area were Parishjulet were located.

The new area on the hill "Lisebergs Gardens" is a newarea with beautiful plantings and lush greenery. To get there, a new serpentine path is build. On site, there are three new attractions and a new cafe. One attraction is for adults: AeroSpin and for the smallest children: Flower Carousel and Children's Paradise. (free for the children)

AeroSpin: 70 meters above sea level, you can control your own airplanes the way you want. Aero Spin is a 35-meter rotating tower with twelve arms and on each arm sits two aircraft. The aircraft has two levers, one for each wing, the person in the plain can then self-control the plane and get it to rotate sideways around its own axis.

For the younger children there are a new imaginative playground "Children's Paradise" and the double-decker carousel "Flower Carousel". The old-fashioned "Virvelvinden" has also received a facelift.
2015 - New ride at Liseberg - MECHANICA
2015 - new ride at Liseberg- MECHANICA.
A unique attraction that has never before been seen at Liseberg. It takes you back to the Middle Ages and Leonardo Da Vinci's imaginative creations. Here you spin 360 degrees high up in the air (30 m), while going in a pendulum movement. Yes, it is a really strange machine .... something just for the daredevils :).

Short facts: 30 m high. 6 gondolas with 5 seats in each. The ride takes approx 1,5 minutes.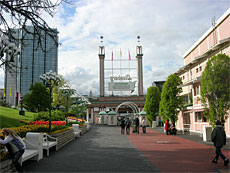 Why is it called Liseberg?
After Jacob Bratts death the successful merchant Johan Anders Lamberg took over the area.
Johan loved gardens and also his wife Elisabeth Söderberg. The word Liseberg comes from Johans wife, when Johan called her Lisa and gave the name to the area Lisas berg - eventually the name Liseberg. He also built a house for her, the so called - Landeriet.

Before the city of Gothenburg bought the park, there have been 6 owners after the family Lamberg. One owner - used the park as a big base for an enormous smuggler activity. From different places precious things were gathered and later on was hidden at special places in the park .Wonder if there are any items left today.....
2014 - New ride at Liseberg - HELIX "roller coaster"
The new "roller coaster" Helix opened in April 2014, it is the tallest and fastest roller coaster in Scandinavia. And maybe the best in the world! For those of you who like to hang upside down, there will be loops at seven different locations and you may also experience the so-called air time - a feeling of weightlessness.

Some facts: 1381 meter long, the trip takes about 2 min and top speed is up to 62 mph. The trip starts where the cinema "Maxima" earlier was located and then go winding around the mountain.
Helix has won the European Star Award in the category of Europe's best new attraction during the fair IAAPA Euro Attractions Show. In competition with 200 other new attractions in Europe Helix became the winner. During the first year 2014 1 million Liseberg guests has already travelled on Helix. Next year, 2015, the fair will be held actually in Gothenburg on the Swedish Exhibition Centre, The Swedish Exhibition & Congress Centre next to Liseberg.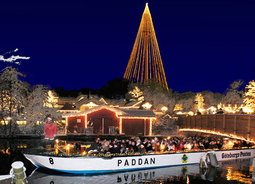 Fun tip:

Christmas at Liseberg started year 2000 and it has become a hugh success! Come here and eat gingerbreads and drink the Swedish speciality "glögg" and feel the Christmas feeling.

During Christmas time (mid Nov - Dec) you can go with the Paddan boat directly to Liseberg. A nice and cozy boat ride through a uplit Goteborg.

Halloween started year 2015 at Liseberg. During one week in October Liseberg celebrates "trick or treat".

More information about Christmas in Goteborg »
Source: sv.wikipedia.org and the Liseberg website
Pictures: own and the Liseberg website