Address: Götaplatsen

At the top of Avenyn at Götaplatsen you will find him standing naked with a little shy glance watching downwards, Gothenburg´s Poseidon. When Poseidon were ready at Götaplatsen people thought it was a little bit embarrassing that he was naked.....but today we do even think about it. Yes, our acceptance really change through time.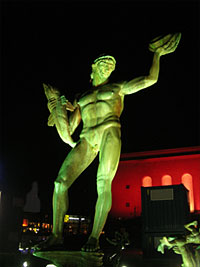 He loves to be photographed from all angles and he stands here both Summer and Winter. In the Summer time he cools down in the fountain and in the winter time he freezes his butt off....

In the greek mythology, Poseidon was the God of the Sea and were doesn´t he fit the best if not in the city of Gothenburg. Sailors often worship Poseidon about getting a calm sea.

History Poseidon
When the city celebrated it´s 300 year anniversary 1923, some thought that Götaplatsen with it´s central place needed some art of some kind. What should that be....
But before the exhibition it was no time to build or do something else, so a temporary water tub was built in wood. The tub that stands there today were not at place before many years later, 1927. Along the side of the tub you can see shapes of fishes and other water figures.

When did Poseidon arrive at Götaplatsen ?
Poseidon by Carl Milles was put in the tub 1931. He is 22 feet high and the tub around him is 3 feet high. Apart from Poseidon you can at least see 6 figures more in the tub. Poseidon is poured at Herman Bergmans firm.

More to see?

Around Poseidon you have many more interesting buildnings in Gothenburg as: Stadsteatern, Konstmuseet, Konserthuset and Konsthallen.
At the Summer time you can see all the students take a dip in the tub celebrating that school is "out".


Source: Göteborgsguiden, sv.wikipedia.org