| | |
| --- | --- |
| Christmas in Gothenburg - 2019 | |
Gothenburg is a cozy Christmas city where there is much to experience. We hope that this year can give our city a little sparkling snow.

We will advise you on what's going on in Gothenburg for Christmas. There will be music, christmas food, christmas lights, Christmas at Liseberg and much more. Below you will find a selection of christmas events.

Tip!
When you come to Gothenburg take a visit to the Gothenburg Tourist Office in the city center. They have an eye on all christmas events and here you can also get maps. You find two tourist offices in town - Kungsportsplatsen and Nordstan.
This page contains affiliate links from different partners.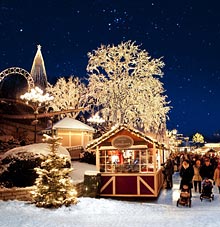 Christmas at Liseberg

On November 15, 2019 Liseberg opens up for Christmas.

Come and experience Liseberg in the winter. The entire park is illuminated by millions lights and from a distance, you see the big illuminated "tree". Here you find everything for Christmas: good food, mulled wine and gingerbread, skating-rink, Santa Claus, candy, song and music, christmas market, rides, animals, ghost hotel, gifts, lusse buns and much more. New for this year is that there will be a spectacular light show after the ice show.

Christmas on Liseberg 2019 opens up Nov 15 and have opened the following days in November: 15-17, 22-24, 28-30 november 2019. In december: 1, 4-8, 10-23, 26-30.
More info about Christmas at Liseberg »
Photo/Source: Stefan Karlberg, Liseberg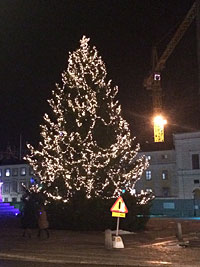 The Christmas Tree at Gustav Adolfs Torg

Each year the Park and Nature Administration delivers a Christmas tree to Gustav Adolfs Torg.

Christmas Tree will arrive in the end of nov, 2019.
It is usually transported by truck at night, not to disrupt traffic.
The Christmas tree stands in place through the mid of January 2019.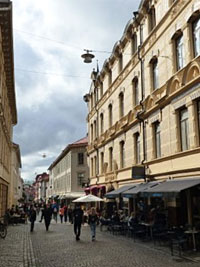 Christmas Light in Haga

Every year the Christmas Light in Haga lights up and the Christmas feeling begins. The lights are usually lit in November and this year it will start on November 30 nov 2019

Christmas lights are lit on the evening of November 30 at 6.30PM and this evening you can taste gingerbread cookies and "glögg" for free. You can also shop in the shops along Haga Nygata.

Christmas market in Haga: Nov 30 - 22 dec 2019.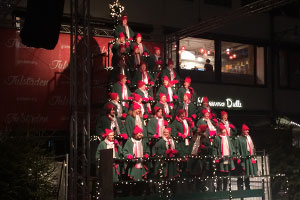 Singing Christmas tree

The Singing Christmas tree at Kungsportsplatsen (near the statue Kopparmärra).
See and hear the singing Christmas tree choir a tradition since 2004 with inspiration from The singing Christmas Tree in New York. This year you can also see the Lucia choir.

Nov 29 nov - Dec 21, 2019, Kungsportsplatsen
Find hours here »
NK Christmas windows - Meet Santa
Sunday Nov 17, at 11:50 AM 2019

Each year, it is exciting to wait for the Christmas windows at NK on Östra Hamngatan.

What is this years theme? Always equally exciting to see what is hiding in the large windows outside NK. On November 17th at 11:50 AM the windows is revealed and Christmas comes to us all. Santa is also here.

This years theme: We will wait which theme it will be this year. Last year was "A magic Christmas". The display windows show what happens at the department store when employees and customers are not in place.


NK, Östra Hamngatan 42, Göteborg - to NK:s website »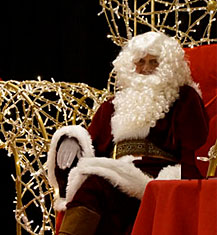 Nordstan - Santa Claus
Meet Santa, Nov 30 - 20 dec 2019

Every year you can meet Santa Claus at Nordstan. This year he will be here between nov 30 - dec 20. Christmas in Nordstan starts November 30th, 2019.

Times for Santa 2019:
Saturdays 1/12, 8/12, 15/12, 22/12 kl.12-16
Sundays 2/12, 9/12, 16/12 kl.12-16
Fridays 14/12, 21/12 kl.15-18
Thursdays 20/12 kl.15-18



Östra Hamngatan 42, Göteborg - till Nordstans hemsida »
| | |
| --- | --- |
| | Find a hotel in Goteborg during Christmas: |
The Christmas Tram / Drottningtorget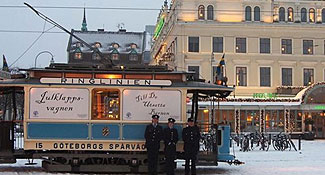 Give Christmas gifts, Dec 7, 2019, at 11.30AM - 3PM
Give Christmas gifts to the needy in Gothenburg. Donate to the children and the elderly who have it tough. Stadsmissionen takes care of the Christmas presents and distributes them.

The tram go on a ride in the center of Gothenburg. Start and stop is at Drottningtorget. During the ride, it passes Vagnhallen Majorna, Valand, Sankt Sigfrids Plan, Härlanda and Wieselgrensplatsen

.



Information about the Christmas Tram »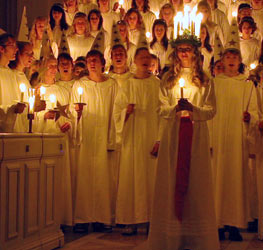 Lucia

1940 was Gothenburg's first Lucia, 17-year-old Mette Sörviken from Utbynäs. 201, the tradition of choosing the Gothenburg Lucia was ended. But in year 2017 the tradition of Lucia is taken care of by the music program at Hvitfeldtska Senior High School. They will have Lucia concerts in various places in Gothenburg.




Lucia at Hvitfeldska Musikgymnasiet »

Photo: Lucia by Claudia Gründer via Wikimedia Commons.
| | |
| --- | --- |
| Tickets | Christmas buffet in the Goteborg archipelago |
Advent Brunch

Nov 23 - Dec 22, 2019
Departs from: Lilla Bommen at noon

Brunch cruise onboard M/S Carl Michael Bellman in the Goteborg archipelago. On board it is served a Christmas buffet with delicacies and as finishing good desserts. This ticket include boat ticket, brunch and glass of mulled wine.
Book Advent Brunch

Christmas lunch

Nov 20 - Dec 20, 2018
Departs from: Lilla Bommen

M/S S:t Erik takes you on a historical journey through the winterscapes of Gothenburg archipelago. Enjoy a nice Christmas lunch.
Book Christmas lunch

Christmas dinner on M/S Göteborg

Nov 19 - Dec 21 , 2019
Departs from: Lilla Bommen

Christmas buffetc in the Gothenburg archipelago. Cruise through the archipelago of Gothenburg while enjoying a lovely Christmas dinner on board.
Book Christmas dinner
Presented together with Strömma.
| | |
| --- | --- |
| Tickets | Paddan - Christmas Tour - with entry to Liseberg |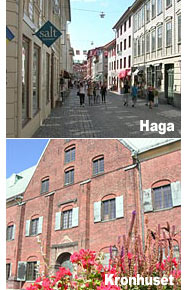 Christmas markets in Gothenburg

Christmas is the time for Christmas markets and in Gothenburg, you'll find a few markets in different areas.

Nordstan: (15 nov- 30 dec 2019). Inside the Shopping Center Nordstan is the Christmas market with about 40 stands. Everything from food to things.
More information: www.nordstan.se

Haga: (30 nov - 22 dec 2019). Christmas Market in Haga, Gothenburgs cozy area with cobblestone streets, cafés and small shops. Sales in shops and markets outside at Haga Nygata.

Kronhuset: (30 nov - 21 dec 2019). Gothenburg's oldest house, you'll find in Kronhusbodarna just behind Gustaf Adolfs Torg. Here you will be met by Christmas decorations, scent of mulled wine, burnt almonds and, of course, all the market dealers.

Gustav Adolfs Torg: (1 - 23 dec, 2018). Christmas market at Gustav Adolfs Torg adjacent Nordstan shoppingcenter. Shop for Christmas gifts and Christmas food on the square..
Saturdays and Sundays and Dec 20-21 at 9AM - 6PM.

Liseberg: (15-17, 22-24 och 28-30 november samt 1, 4-8, 10-23 och 26-30 december) Inside Liseberg amusement park you have a Christmas market filled with treats and presents. It is fantastic beautiful with all the Christmas lights. If you haven´t been here before do not miss a visit to Liseberg during Gothenburg Christmas time.
More information: www.liseberg.se

Kville Saluhall: (14 dec, 2019). Kvillejul is arranged outside Kville Saluhall. On site, it is offered at Christmas market, beautiful Christmas songs and granary sales. You can buy Swedish glögg and gingerbread cookies.
Kl. 10-16. Gustaf Dalénsgatan 2 (Hisingen)
Mer information: Kvillejul

Röda Sten: (29 nov- 1 dec 2019) Christmas Market in Röda Sten Konsthall with crafts and design.
More information: Röda Sten

Sankt Jörgen Park: (Nov 24, 2019 ) There will be a lot of fun with where you can ride a horse and a carriage and buy christmas presents..
Kl. 11-17. Knipplekullen 8-10 (Hisingen)
More information: Sankt Jörgen Park


Christmas Market outside Gothenburg

Tjolöholm Slott: 15 nov - 1 dec 2019.

Gunnebo Christmas Market: 23 nov, 30 nov & 1 dec 2019.


Welcome to the Christmas markets in Gothenburg

New Year in Gothenburg - New Years Eve 2019/2020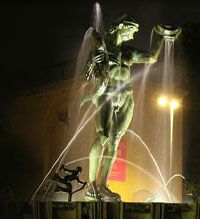 Celebrate the New Year at Götaplatsen

Come and celebrate New Years Eve at Götaplatsen. Starting at 23:30.

Now it has become a tradition in Gothenburg to celebrate the New Year at Götaplatsen. "No one should have to be alone on New Year '' is the message. The ceremony starts at 23.30 with speeches, film and countdown to the new year.

Sylvesterloppet at. 12 (Heden)
The same day the Sylvesterlopp take place with the start at Heden. 10 km on a two-lap track along the Avenue, Ullevi, Gårda through and around the Swedish Exhibition Centre.

Note! it is not allowed to fire off fireworks during the New Year celebrations.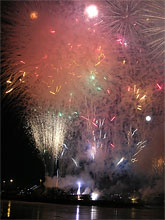 The GP yearly New Year firework

Kvillepiren - Gothenburg harbour - 31 dec 2019, at 5PM

A real New Year tradition is to dress warm and get down to the Goteborg harbour to see the fantastic New Year fireworks. People gather on both the city center area at Lilla Bommen, the Opera House, Masthugget and on the island Hisingen at Ramberget and along the harbour overlooking Lilla Bommen and the Opera House.

Expect queues if you come by car. Please remember to put on hearing protection on kids. Dress warm.

| | | |
| --- | --- | --- |
| | | ilovegoteborg.se i cooperation with booking.com |
Popular Christmas events in Goteborg!
With reservation for changes.