Atelier/Hotel Pigalle
In the restaurant Atelier on the fourth floor of the Pigalle botique hotel, you can enjoy a brunch on Saturdays. If the fire does not warm up, maybe the DJ will do it. Music is played while you are eating and if you have the dance shoes on - there is no one that prevents you from taking a few dance steps. A Saturday with champagne is not wrong.

The hotel has an age limit of 25 years.

Atmosphere: Luxury feeling in Paris.

Södra Hamngatan 2 A
Atelier _Hotel Pigalle»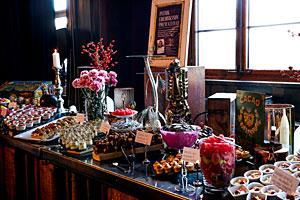 Norda Bar&Grill/Hotel Clarion Post
Bloody Mary Buffe is not everyone who has - mix your own Bloody Mary and enjoy the most cold dishes. A little different is that you choose a main course from their menu. You will be received by a captain who will show you to the table. Music is played in the background and you quickly fall into a delicious brunch mood.

Save some space for the nice dessert buffet.
Atmosphere: A little luxury

Drottningtorget 10
Norda Bar & Grill/Hotel Post »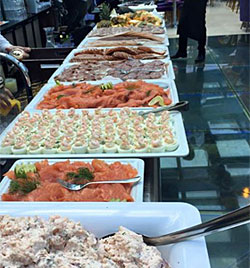 Le Pain Francais


Right on the Avenyn is the cozy cafe Le Pain Francais. A 4-storey cafe and at the top they have brunch on their roof terrace.

Lovely atmosphere. After the brunch you can sit by the fire.



Virtually - French cheerfulness. Wonderful decor.

Kungsportsavenyn 7
Le Pain Framcais »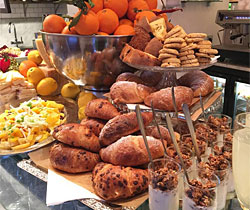 Fratelli Gridelli
Take a trip to the Italian place Fratelli Gridelli and try their brunch on Sundays. Do you feel for a breakfast or maybe lunch - go here you will not regret it. Very good coffee.

Atmosphere - Italian home feel right in the city center.

Breakfast buffet and Saturday brunch.

Tegnérsgatan 26
Fratelli Gridelli»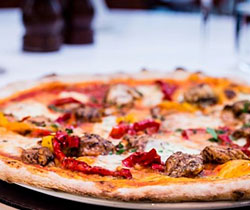 Restaurang Ristoria
Visit Italy in Gothenburg. Take to Gothia Towers and enjoy Italian food with fine ingredients! Big variations in a beautiful environment.



Atmosphere - Hotel feeling in the city center.



Mässans Gata 16
Restaurang Ristoria»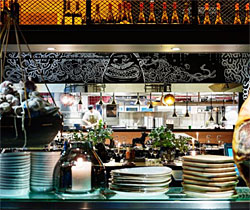 Restaurang HAK/Hotel Scandic Europa
If you find yourself in town one Saturday or Sunday why not slip into Hotel Scandics Restaurant HAK right in the center. After some shoppping in Nordstan it is close to HAK. Various meat delicacies, salads, cheese and chark and homemade delicacies are served here.

Atmosphere - Hotel feeling right in the city center.

Nils Ericsongatan 21
Restaurang Hak_Scandic Europa»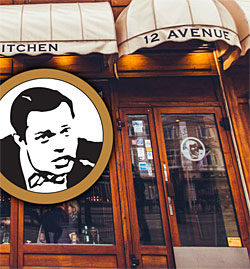 Joe Farelli´s
Another restaurant right on the Avenyn where you can enjoy an American brunch on Sundays.

For those who like American pancakes, ceasar salad, mini hamburgers, scrambled eggs, bacon and much more exciting. Little Italy is also on the menu. How about pizza.

Atmosphere- typical American - family-friendly.

Avenyn 12
Joe Farelli´s »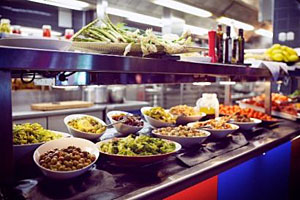 Incontro
Cozy and nice Italian brunch and food. How about pasta, pizza, different cold Italian dishes, etc. Great restaurant with good access to the food. Do not miss their dessert buffet with ice cream, coffee, cakes and different pastries.

Atmosphere - Cozy in nice premises.

Lorensbergsgatan 8
Incontro »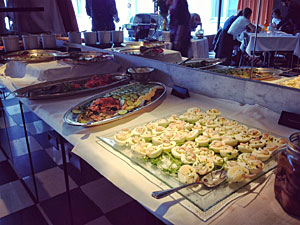 Elite Park Aveny Cafe
The hotel offers a brunch focusing on continental buffet on Sundays. Hot dishes are also served. Finish with their delicious dessert table.

They usually also have a special Christmas brunch from Nov 29 - Dec 20.

Atmosphere - Cozy hotel feel.

Have a look at their "Saturday Brunch" Always a few special prices.

Kungsportsavenyn 26-38
Park Aveny Cafe »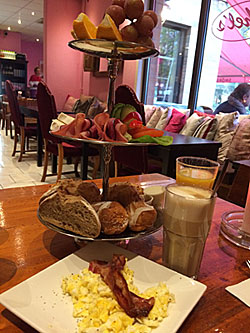 Ethel´s
The cafe offers brunch (or breakfast) depending on what you want to call it depending on the time you arrive. How about fresh bread with butter and toppings like cheese, brie, salami, marmalade & ham. For this a coffee, caffe latte, tea, chocolate or cappucino - and a glass of juice. Choose from omelette with bacon or yougurt.

Brunch / Breakfast Monday - Friday.

Wonderful cozy place. You are served the food on a plate with 3 floors. Feels very luxurious.

Atmosphere - cozy cheerfulness - home feeling..

Linnegatan 72
Ethel´s »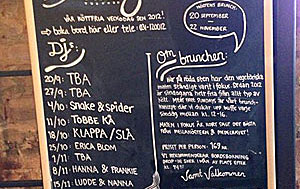 Röda Sten/Meat Free Sundays
Meatless brunch on Sundays on Röda Sten. Autumn brunch usually starts in mid-September - April. From April onwards, a vegetarian and vegan Sunday menu is served. For you like digs everything but meat - welcome. The Mediterranean inspires the different dishes.

Atmosphere: A little industry feeling with a nice touch.


Röda Sten 1 (harbor entrance, located almost below Älvsborgsbron)
Röda Sten »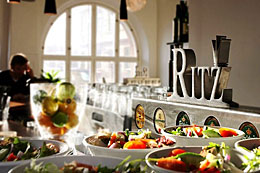 Hotel Ritz
Saturdays and Sundays, Brunch is served at Hotel Ritz. Here is the table with regards to Sweden, herring, egg halves, salads, salmon, several different meat dishes, etc. Desserts table is also available.

Atmosphere - Hotel feeling right in the city center.

Linnegatan 72
Ritz »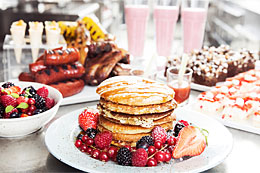 Casino Cosmopol


Sundays, Casino Cosmopol serves its American brunch buffet.



Atmosphere: game feeling.
Age limit: 20 years

Linnegatan 72
Casino Cosmopol »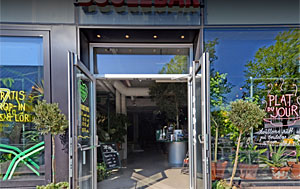 Boule Bar/inkl boulespel
On Saturdays and Sundays all year round you can enjoy a delicious brunch while challenging your friends in a boules match. The Boule game is included in the price. Of course, the food is inspired by France: good cheeses, salads, omelettes, ham, chicken, potatoes, croissants with marmalade and a delicious dessert table with chocolate cake, waffles, ice cream, cream and jam etc.

Atmosphere: Action-loaded brunch.

There are 14 boulebanes indoors surrounded by mediterranean trees and other trees. A lovely French setting.

Rosenlundsgatan 8 (City Center, opposite Fiskekyrkan)
Boule Bar »
Brunch in Gothenburg Göteborgs Skärgård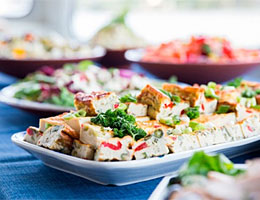 Enjoy a delicious brunch at M / S Carl Michael Bellman on Saturdays or Sundays between April - Otober. You are travelling in the Gothenburg archipelago on a three hour brunch cruise. The brunch s cooked on board and you can choose from salmon, herring, meatballs, salads, cheese platter and do not miss the dessert table. You look through the large panoramic windows of the ground floor and do you want to go out - go up on the sun deck and enjoy the view.

Ticket includes boat trip and buffé.

Season: April 7 - Oct 14, 2018
Departs: Lilla Bommen, at noon
Time: 3 Hours

Free: Children under 6 years old.
Half Price: Children between 6-15 years old.

Boka Brunch här »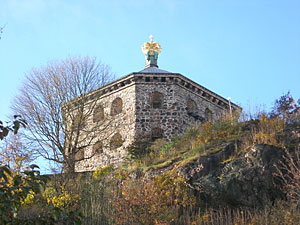 Skansen Kronan
Skansken Kronan serves brunch. They serve a buffet with flavors taken from Swedish cuisine. The bucket includes spicy ribs, meatballs, sausages, lettuce salads, salmon, various kinds of pies, bread tables with cheeses and marmalades, the soup of the house, etc. After dinner you can enjoy the house's apple pie and waffles with cream and jam. Coffee and tea buffet.

Free parking inside the courtyard.
Atmosphere: Calming

Skanskeberget
Skansen Kronan »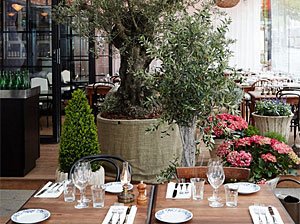 Bellini/Hotel Bellora

Visit the cozy hotel on Avenyn. Their brunch is served every Saturday. How about pizzas with good Italian side dishes.

Atmosphere: Italian, calm

Kungsportsavenyn 6 (Avenyn)

Hotell Bellora »
Smörgåsbaren
Here you eat brunch - and you eat brunch sandwiches e. They serve brunch on Saturdays and Sundays.

There are organic dishes and some dishes specializing in raw food. Dessert is also available. Atmosphere: Calming

Kyrkogatan 20-22 ( opposite Scandinavium)
Smörgåsbaren »
Pure Bistro & Wine/Haga Badet
On Saturdays and Sundays, enjoy brunch focusing on extra love for the ocean. There are organic dishes and
some dishes specializing in raw food. Dessert is also available.

Atmosphere: Calming
Södra Allégatan 3 (Haga)
Pure Bistro & Wine »