Sjömanstornet
Address: Behind Sjöfartsmusset, Karl Johansgatan

There she stands turned against Hisingen watchin over the water. The mourning seaman wife saying goodbye to her husband who´s leaving for sea. When willl he be back?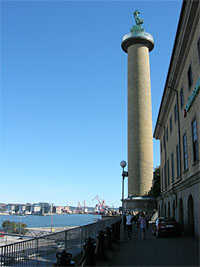 Sjömanstornet was built at the same time as Sjöfartsmuseet.

The top of the statue is 230 feet over the ocean and at 170 feet you can visit a watch tower, a so called platform. There you can enter to the platform at the outside and take a glance over Gothenburg. The platform is round so you can both view over the entrance to the harbour and also over the city.

You can either go by the elevator or walk the stairs in the tower. It depends how fit you are.......

For you that are affraid of hights....one tip, keep to the tower wall instead of the edge.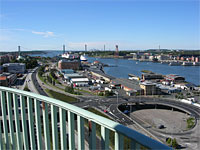 History
The tower was inaugurated 1933 and the arhitect was Karl M Bengtsson who also have drawn the museum building. The women at the top is the work of Ivar Johnssons. The sculpture in bronze is also called Sjömanshustrun but her real name is "Women by the Sea". She is 16 feet high.

The sculpture is a symbol for the people at home and for their thoughts and prayers.

At the base there are 690 swedish sailor names carved, those who lost their life during firts world War. Their names are placed beside which ship they sailed at. In all 690 sailors at 98 different ships.
Fun facts:

In which direction is she looking?

Sjömanshustrun is watching in the direction towards Hisingen and not to the Sea.

Surely you could have thought that she should be standing in the direction towards the sea.

But this is the fact, she has always been standing with the head towards the same direction. The thought was that you should be able to view her from both the city and the sea.





Source: Göteborgsguiden. sv.wikipedia.org